Jul 22, 2011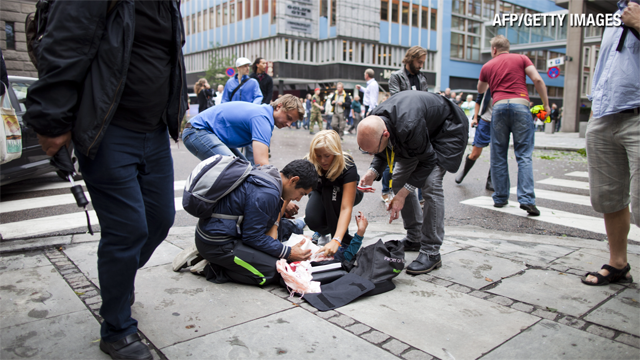 STORY HIGHLIGHTS
NEW: State secretary of Norway says the priority is to help people trapped in affected buildings
Oslo police spokesman says the city center was evacuated after the explosion
A U.S. official says it is too soon to tell if the blast is a terrorist attack
State broadcaster NRK reports at least two people have died, dozens are injured
Editor's Note: Are you there? Send your videos, stories and photos to CNN iReport
(CNN) -- A giant explosion rocked government buildings in Oslo, Norway, on Friday, state TV broadcaster NRK said, with at least two people confirmed dead.
Windows in several buildings had been blown out, and people were in the street bleeding, NRK said on its website. The cause of the blast remains unknown.
There are conflicting reports about whether a second blast followed the first, which occurred mid-afternoon in the center of the Norwegian capital.
A spokesman for Oslo police told CNN: 'There has been a bomb explosion in the government area. At least one person is dead, and a number of people are injured. We don't have the exact number yet."
.
Posted by Interalex 5:30 PM
0 Comments


Links to this post